PAULINE
One word talented!
She knew how to make the dress that suited me, and that I could wear for other occasions. The fittings were very pleasant moments. I couldn't have asked for better. With all my heart, thank you, I am very lucky to have crossed your path.
Many thanks again, I will not hesitate to come back for new creations!
★★★★★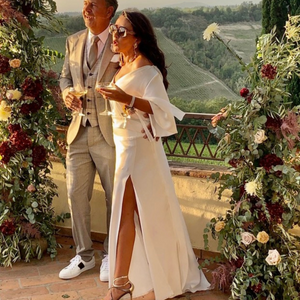 LAURA
A wonderful weekend with a stunning wedding dress.
It would have to be done again, I will do the same!! She was made for me.
I felt very good and very comfortable in my outfit! Thank you for your work and your patience.
★★★★★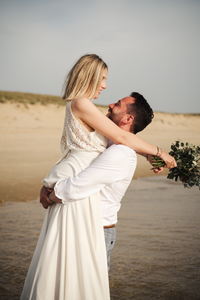 Amanda
Golden fingers! Christelle has done an extraordinary job .. both on the professional side and on the relational side.
Great quality and precision work. Everything was perfect .
Christelle is a professional who will guide you by respecting your wishes, and your personality to be the prettiest on your wedding day.
For my part, she did a superb job and was able to find the dress of my dreams because the mission entrusted to her was not the least since she had to make a dress for a bride she had never met and who did not know herself that she was going to get married!
Thank you again for your support, your advice and your professionalism.
Camilla
I would like to thank Christelle for her kindness, gentleness and talented work. She knew how to make the dress that suited me. The fittings were very pleasant moments each time!!
Thank you again for everything Christelle!! Goodbye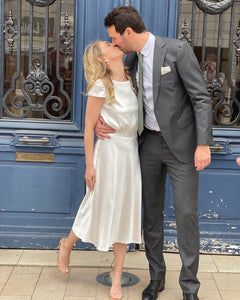 chelsea
Christelle was such a highlight of our whole wedding experience, I seriously can't imagine it without the dress she made for me. I was looking for a dress for our townhall ceremony for months. I had something specific in mind but wasn't finding it anywhere and was out of time with the wedding just 10 days away. We happened to walk into her shop looking for something ready to wear. To our surprise, Christelle said she could make what I was looking for in that short amount of time. She explained her process, showed us material options, set a series of appointments up from the start which all put me at ease and gave me confidence in her. Working with Christelle on this dress in the last few days before my wedding gave me something to be excited about when other parts of our wedding were becoming so stressful. Christelle more than brought my vision to life - she gave us the perfect dress better than what I imagined that both my husband and I absolutely love. I also love that I can wear again, and potentially modify it with Christelle's help in the future. I cannot say enough about how incredibly talented she is and what a wonderful person she was to work with.
Thank you Christelle!!!! I would give 100 stars if I could :)
Camilla
Christelle, or the designer with golden fingers. I spent a wonderful year of fittings by your side. You are a beautiful person, reassuring, good advice and above all very talented. I was very proud to wear your creations during the most beautiful weekend of my life. My two outfits, for the civil and the ceremony, are real jewels.
The civil wedding outfit made up of the Camille Top (which I can wear and wear again) and flowing pants, and the D-Day outfit made up of a sublime bodysuit and a skirt.
Couldn't have asked for better. I owe you a lot.
With all my heart, thank you, I am very lucky to have crossed your path. Future brides, Christelle is a pearl, be sure that she will know how to sublimate you for your big day.
Nadege
Christelle is very professional, patient, available and extremely kind. She made me a sublime and elegant dress, unique and beyond what I imagined.
I just received the Olympe top in black and it is just sublime! Christelle's creations are always of incomparable elegance, I highly recommend!
Laurie
A wonderful seamstress
The most marvelous of seamstresses, humanly and professionally speaking. She created me the dress of my dreams for the most beautiful of days. Beyond the creation of a dress, it's a wonderful step in the wedding preparations to share with beautiful people like Christelle, in her cozy and warm workshop.
She also prepared the outfits of my witnesses.
Wonderful creations, real talent.
The hardest thing is not to go back to your workshop!
Paulina
Christelle made the princess dress of my little girl dreams a reality! Professional and tailor-made work with exemplary kindness and joie de vivre, a real little pleasure to have been able to be at his side during this year of intense preparation.
The quality of its fabrics are superb especially the lace wow!

I can only recommend Christelle to have THE dress of your dreams!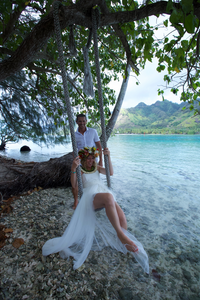 DELPHINE
What happiness to have one day passed the door of Christelle's studio. What good times shared to arrive at the making of a perfect dress for a day like no other. I only regret one thing, to get married only once! Congratulation. Thank you Christelle, I can only recommend you!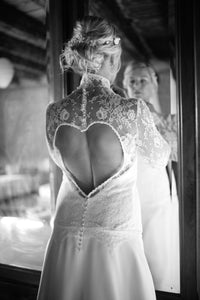 Diana
Christelle is a real creative seamstress! For the wedding dress, she did not hesitate to take up all the challenges that my dress represented.
In addition to having solid gold fairy fingers, Christelle is gentle, affectionate and always willing to compromise to satisfy her clients and their requests.
To all those who have a dream, Christelle will make your dress for you.
1 million times, thank you!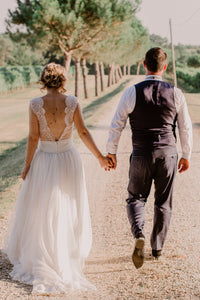 Cindy
A dress made in France, made by Christelle!
Thanks to her, I had the dress of my dreams. I really had a dress in mind, my dress. Gradually, I saw it take shape, take shape and gradually evolve thanks to Christelle, who knows how to adapt it to your morphology, to your new desires... She always finds a solution to our problems of brides, tips to always satisfy you.
And point which for me was not negligible, my dress was ultra comfortable: Christelle made sure that it was not heavy despite the meters of tulle! She uses beautiful lace which makes the dress even more sublime!
Really I am delighted to have trusted Christelle, I had the dress of my dreams. And the icing on the cake, she is absolutely kind, all our meetings were a pleasure to share.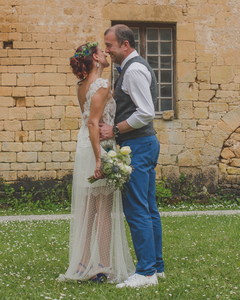 Delphine
Christelle was simply great! Like many brides, I had ideas, desires and Christelle realized them! She spent time thinking about the best way to do it and she always found a solution! The icing on the cake ? All the fabrics and accessories I have chosen are made in France: lace, 3D flowers made by a local designer... In short, I love it!
So I took the opportunity to entrust him with the making of my daughters' dresses. Ciara (5) played the princess with her "swirling dress"; -) and Lylia (12 years old) has found a chic and cool style with bare shoulders and her converse! Their dream: to start again! And me too !
She offered me a bodysuit that I adopted and I'm delighted because I'm wearing it today with jeans in the evening... Brilliant! So a big thank you Christelle, you have largely contributed to the success of our marriage and you have made our wildest dreams come true!
Married
Christelle is a whole, passionate and extremely talented person. With a wave of her magic wand, she transforms your wishes into a pretty couture piece.
I chose an original wedding dress combining couture bodysuit and asymmetrical skirt and she made it superbly, just as I wanted. I would love to postpone it for another occasion. One day...

I highly recommend his services!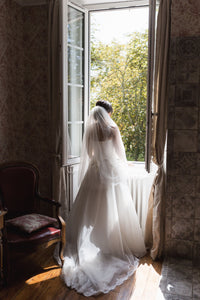 Amanda
The talent and quality of Christelle's work are matched only by her kindness and availability. She knew how to create the dress of my dreams. She listened to all my requests and was able to advise me when necessary. The meetings, over the fittings, have become real moments of happiness and complicity.
Do not hesitate to meet her and entrust her with your dream dresses, she will know how to transform them into reality! For all this, Christelle, thank you again!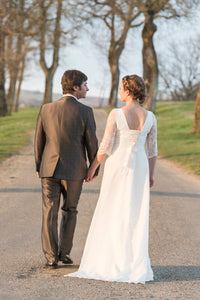 Sabine
The challenge was great, to make a wedding dress in 1 month!
Christelle was able to take it up with serenity.
As soon as we enter this small workshop, Christelle puts us at ease and we immediately feel that her work is a real passion.
Christelle made the dress I dreamed of, simple but refined. Her valuable advice and good humor made each fitting an exceptional moment.
What a pity that we can only wear the dress for one day...
Thank you again for contributing to this moment of happiness.